Charles Sandison (b. 1969 in England) is a Tampere-based media artist and one of the internationally best-known artists in Finland. His art has been described as "poetry of light".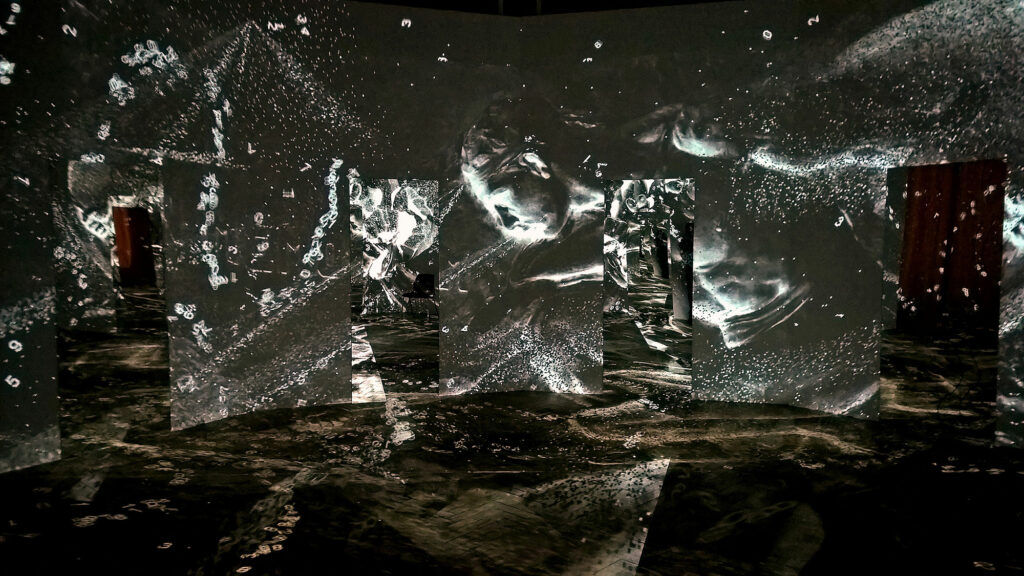 Sandison creates computer-generated light installations on exterior and interior surfaces, video projections that combine words, symbols and movement. In them the words travel in darkened rooms or on the outer walls of buildings, living and interacting with one another. The words do not form sentences, but even so their powerful emotional charge engages the viewer, or more properly, the experiencer. Exhibition visitors get the sensation of being on a space flight, moving through universes of words, on the border between chaos and order. The choice of words in Sandison's works is not random. He has touched on subjects like evolution, biology, genealogy, genetics, artificial intelligence and particularly language in his works. The theme of the exhibition at Tampere Art Museum will not be revealed until the vernissage.
The point for me is to be free, almost like an abstract expressionist. I express myself with computer code and algorithms (like brush strokes) – half conscious, reacting to the exhibition space. Dreaming in code. The code finds its own way into the world.

I want to use my technique in a very pure way, very raw and chaotic even though it's complicated digital technology.
Charles Sandison
Charles Sandison studied at the Glasgow School of Art in Scotland from 1988 to 1993. He has taken part in the Venice Biennale in 2001, the Ars exhibition at the Museum of Contemporary Art Kiasma in Helsinki in 2006 and the Singapore Biennale in 2011. Sandison held a solo exhibition at the Musée d'Orsay in Paris in 2008, and the new Museo d'Arte Contemporanea in Rome invited him to make a work for the Forum Romanum in 2007. Sandison's video installations have been presented in interiors and exterior sites all over the world, including Cleveland and Denver, São Paolo, Rome, Madrid, Lanzarote, San Sebastian, Paris, London and Stockholm. His works can be found in the following collections: MNCARS in Madrid and MUSAC in León in Spain; the Museum of Contemporary Art Kiasma in Helsinki; the Kunstmuseum in Bonn in Germany; Le Centre national des arts plastiques, Fonds national d'art contemporain in France; Denver Art Museum in the USA; Le musée d'art contmporain de Montréal in Canada; and the CB Collection Roppongi in Tokyo, Japan. Sandison has been a visiting professor at Le Fresnoy – Studio national des arts contemporains in Lille, and he has lectured at the Sorbonne in Paris. Sandison won the Ars Fennica Award in 2010. He moved to Finland in 1995.